Ryan and I attended Generate Conference last week (22-23 September) at the Royal Institution:
The Royal Institution was founded in March 1799 with the aim of introducing new technologies and teaching science to the general public.
It was a fantastic two days, and all of the speakers were top notch. It'd be boring for me to review them all, so I thought I'd write about some of my favourites.
—
The conference opened with Bruce Lawson, and I thought it was fitting that he talked about progressive web apps; a theme that ran throughout the whole conference. He talked about why we need to build them, and Paul Lewis explained how (and has even built a chrome extension that will tell you if you're doing it right).
Having begun documenting a style guide for our newest project, and retrofitting one for a product we've been running for three years, I was really looking forward to Micah Godbolt's talk about design systems, but found it to cover all the things at a high level as opposed to a deeper dive into one area which was a shame. But it was nice to see that we're already implementing a lot of his suggestions such as naming conventions etc, which we discussed adding to our Sketch files too.
I think I expected Nadieh Bremer's talk 'SVGs beyond mere shapes' to be about SVG animations, but was pleasantly surprised that it covered data visualisation. And boy, does she love data visualisation! We're working on a graph-heavy project at the moment, so it was great to come away with some good ideas for that.
I have pages of notes from @cennydd who talked about using motion and sound in your products. After spending the three years of my degree using Flash, I'm always thinking about motion and I love how it can really lift a UI, but I never consider sound. It's certainly something we'll think about for our newest web app.
What was most exciting for me were the talks centered around creativity. I was really looking forward to hearing Jen Simmons speak as I think it's great what she's doing with regard to web layouts and love that she takes her inspiration from editorial design too.
And what's more creative than good old pen and paper? That's what we got from Eva-Lotta Lamm who showed us an alternative method to note taking, which reminded me of using mind maps at school and college. So, instead of writing reams of text, she suggested making something more visual from your notes which is not only more inspiring when reviewing later, but actually makes more sense of what you were thinking at the time. Here's mine: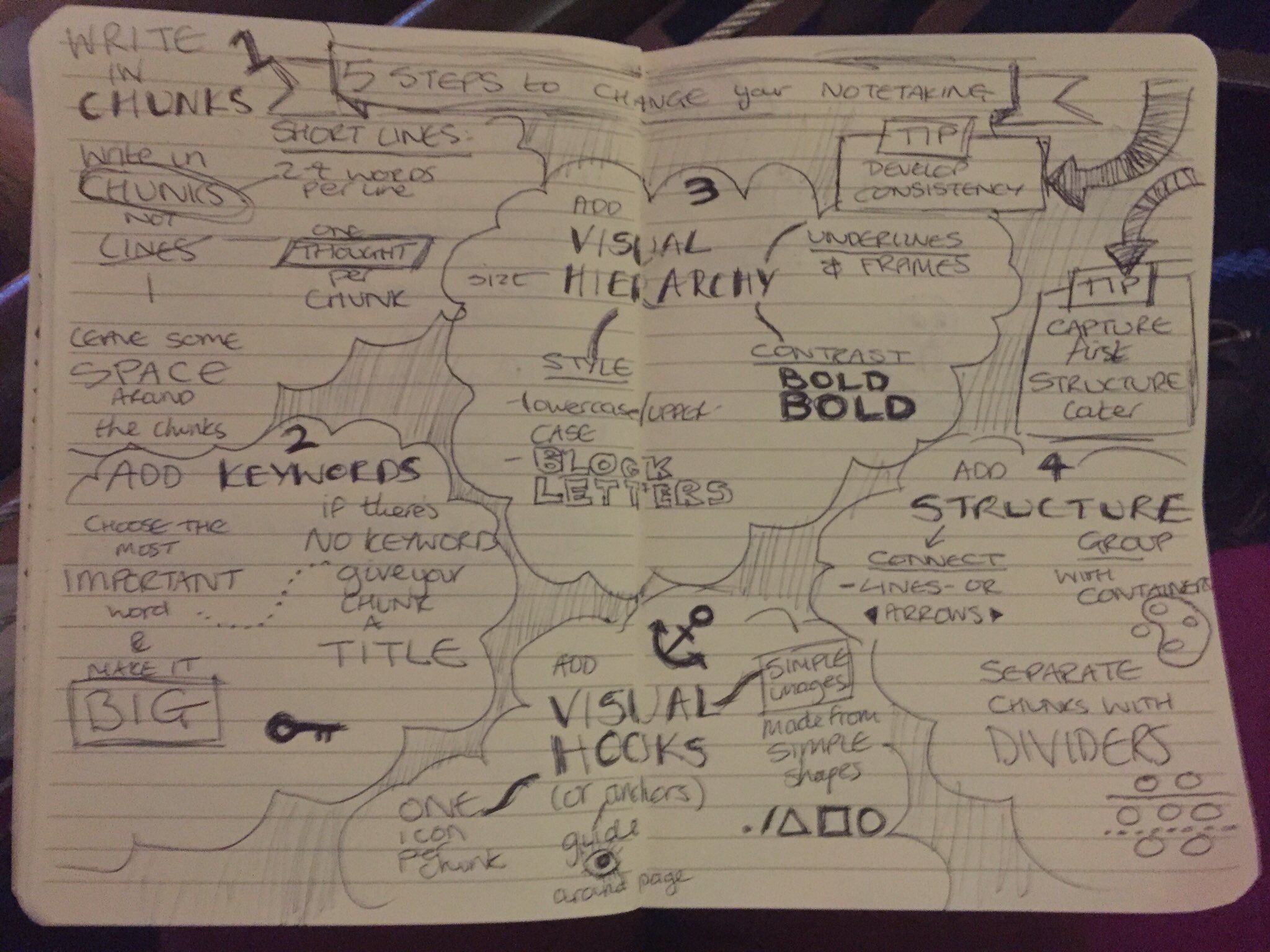 You can see that themes are grouped, and keywords are differentiated which allows them to stand out at a glance. It's a shame that this talk was so late into the conference as I would have liked to put her suggestions to good use.
And finally… the best saved until last. Paper, Plastic and Pixels by Brendan Dawes was totally removed from anything that I do day to day, or would even do in my own time but I really enjoyed it. The talk was a fun, colourful insight into his world of pure creativity. He talked of sitting in a room with a load of engineers, and just playing. He gave each a lithium battery and a vibrate mechanism and they created little monsters. I'd recommend looking at his website, as he's made some really cool stuff. We hold quarterly hack days at UVD so I think it'd be really fun to think outside the box (screen) and maybe try to make something fun/physical.
The range of topics covered during the two days and speakers were diverse enough to not be samey, but also similar enough to be relevant.
Also worth mentioning that the after party was cracking, and there was plenty of good grub at lunch times. Literally the only negative point, which shows how spoiled we were, was that there was only biscuits to eat for brekky.